Austco Canada has completed the first Smart Call Point solution installation at the Mon Sheong Long-Term Care Centre in Ontario, Canada.
The Facility
Mon Sheong Long-Term Care provides around-the-clock nursing care for 457 residents. Located in downtown Toronto, Richmond Hill, and Scarborough, their three facilities provide quality care services for seniors, physically or mentally  disabled individuals, and those with dementia.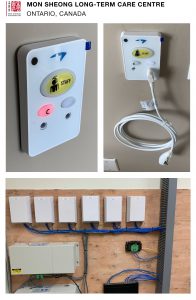 Communication System
The newly designed call points include two configurable backlit buttons and two independently programmable pendant sockets. The first socket is used for the resident pendant and the second is being utilized to provide an input for 3rd party devices such as a bed pad controller. Advanced features include dual color LED's to indicate call status, RTLS and RFID (proximity) capability which can be upgraded post installation, multi-press call upgrades (programmable) and call mute mode for cleaning.
Why choose Austco?
Austco next generation Smart Call Points with built-in RTLS and badges provide features that are normally only available through stand-alone RTLS systems. Our locating enabled products provide features such as automatic staff presence, automatic call cancelation, mobile duress, automated workflow, comprehensive reporting and staff, resident/patient visibility.
For more information on Austco Smart Call Points, please contact us.