Clinical Workflow
Streamline your communication processes with completely customizable buttons. Capture critical metrics and support care initiatives.
What can workflow optimization do?
Clinical workflow is one of the most powerful additions to a Nurse Call System. Austco's workflow features allow you complete control over your processes. Workflow allows you to
Accurately monitor rounding compliance
Streamline your communication channels
Record pain checks and other care initiatives
Push data to a patient's chart with a single button push
Indicate statuses like staff presence or patient falls risk by turning on the over-door light
Virtual buttons do virtually anything
Our in-room touchscreen devices display one or more pages of virtual buttons. These buttons are configured per your requirements: you can have code whatever. The icons, colors, alarm names are all customizable.
More time caring, less time charting
Austco has bi-directional communication with Epic and other EMRs. Any of the buttons can be configured to push a record to the patient's EMR.
Want to record exactly when rounding is completed? Add a "Rounding" button and the patient's chart will be updated and the nurse does not need to log into a workstation to chart.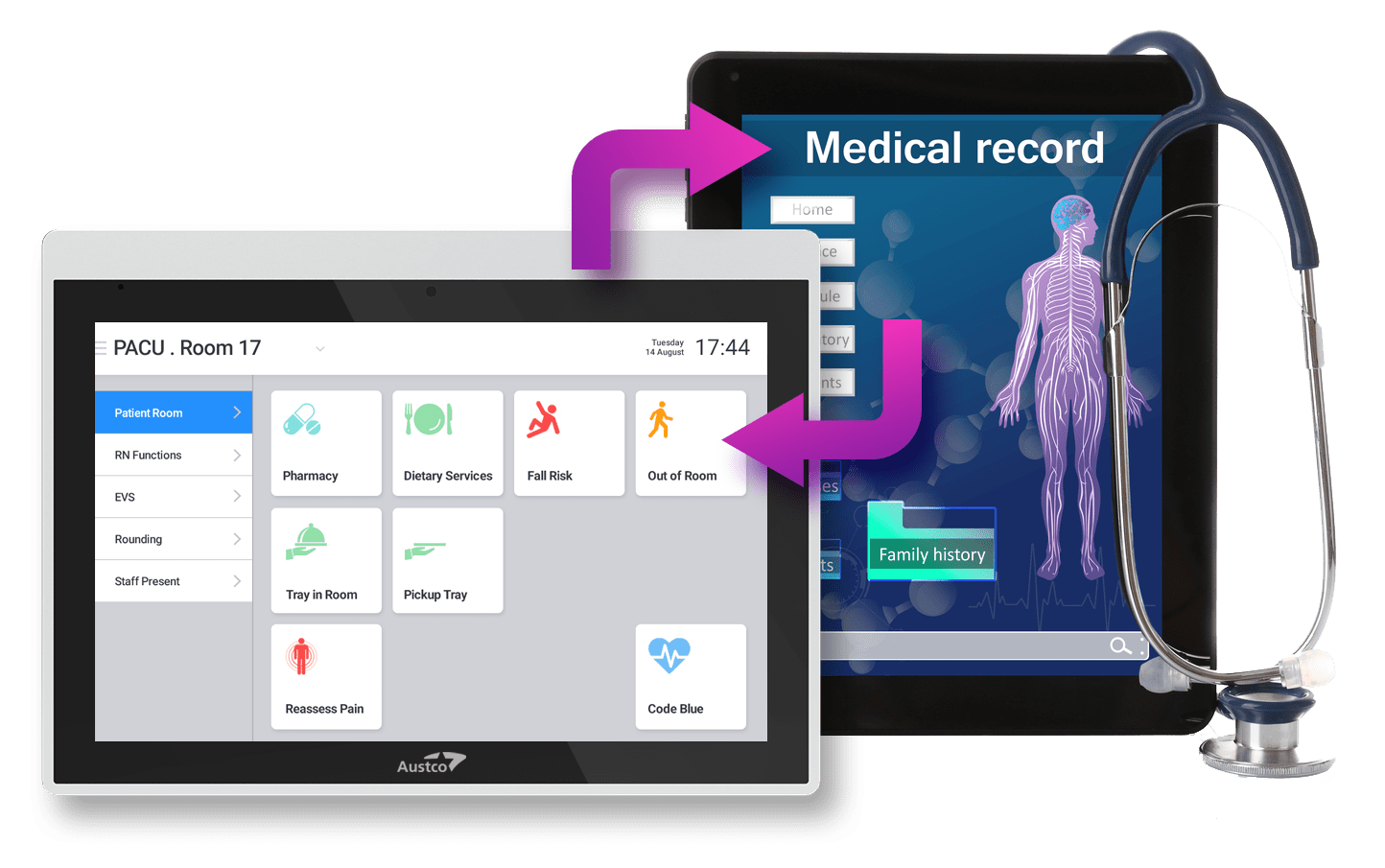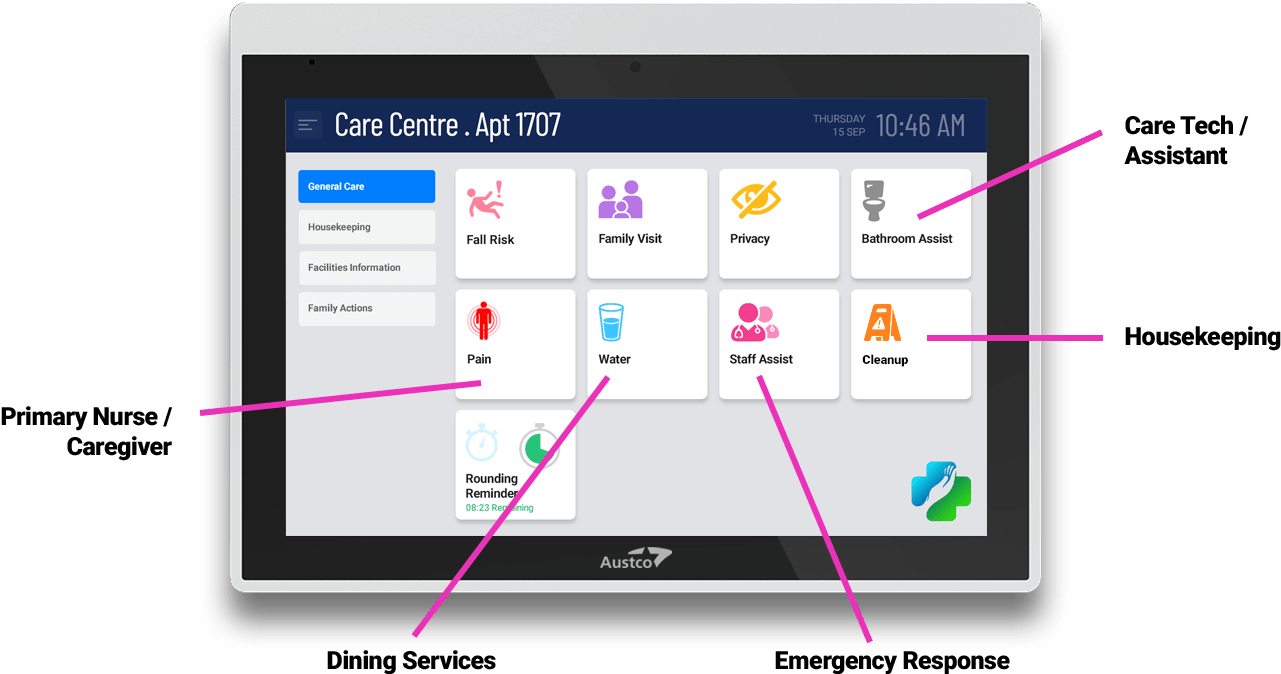 Alerts go to the right person, right away
Virtual buttons are configured to mirror your workflow, and the call goes to the right person, team, or department. None of the workflow buttons need bother the RN at all, nor do they need to make sound or show up within the nurse call system. This is just communication, messaging, happening behind the scenes.
Streamline things even more with your RTLS system: calls can be auto-cancelled the second a staff member walks into the room.
Measure what matters to YOU
All events are logged and can be reported. How long does it take for EVS to get to a room? To clean the room? How long are patients waiting from the time they're roomed until they see a staff member? How often are rounds completed?
For any metric you want to capture, make a custom button and associate that to a behavior within the nurse call system.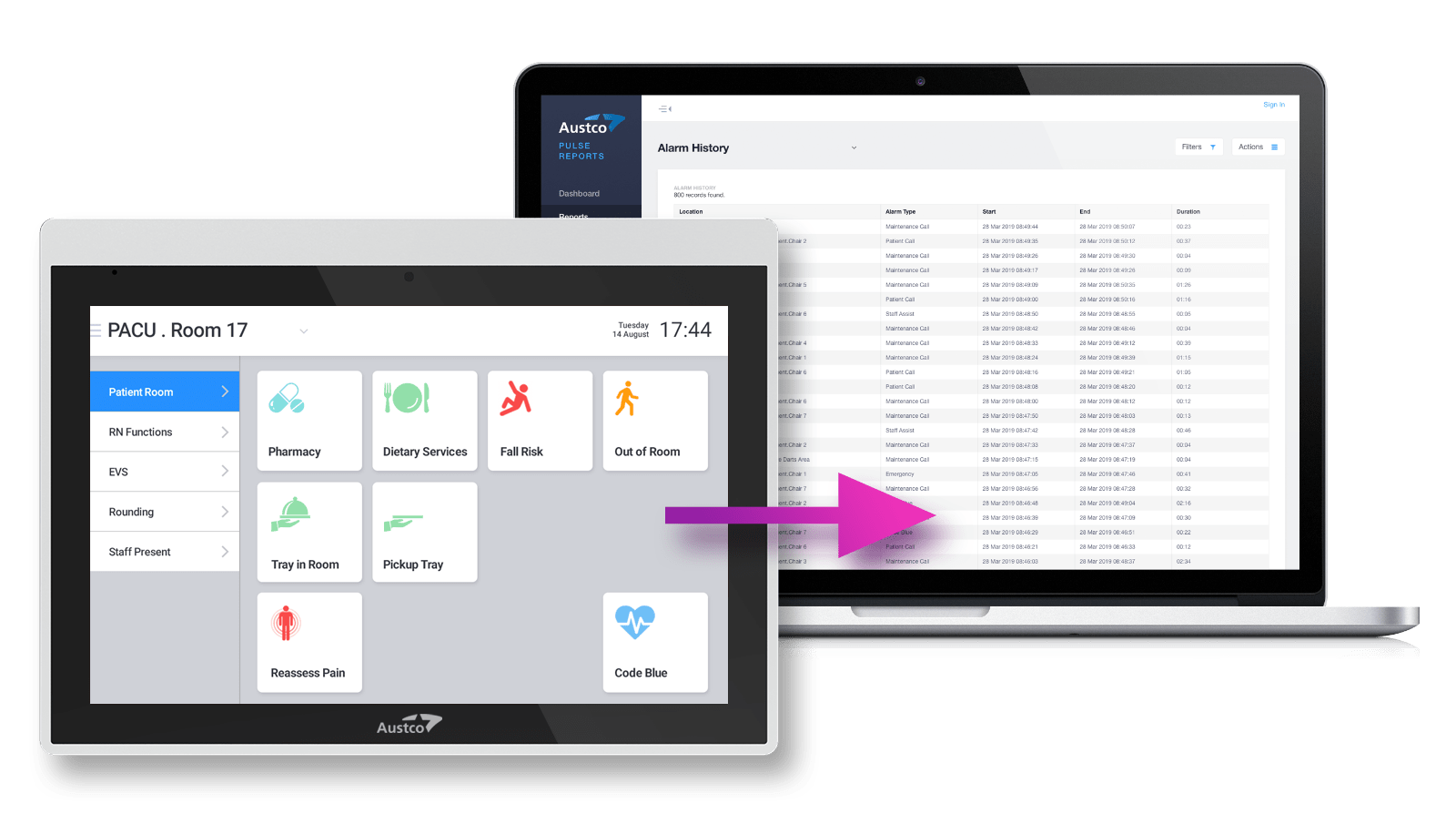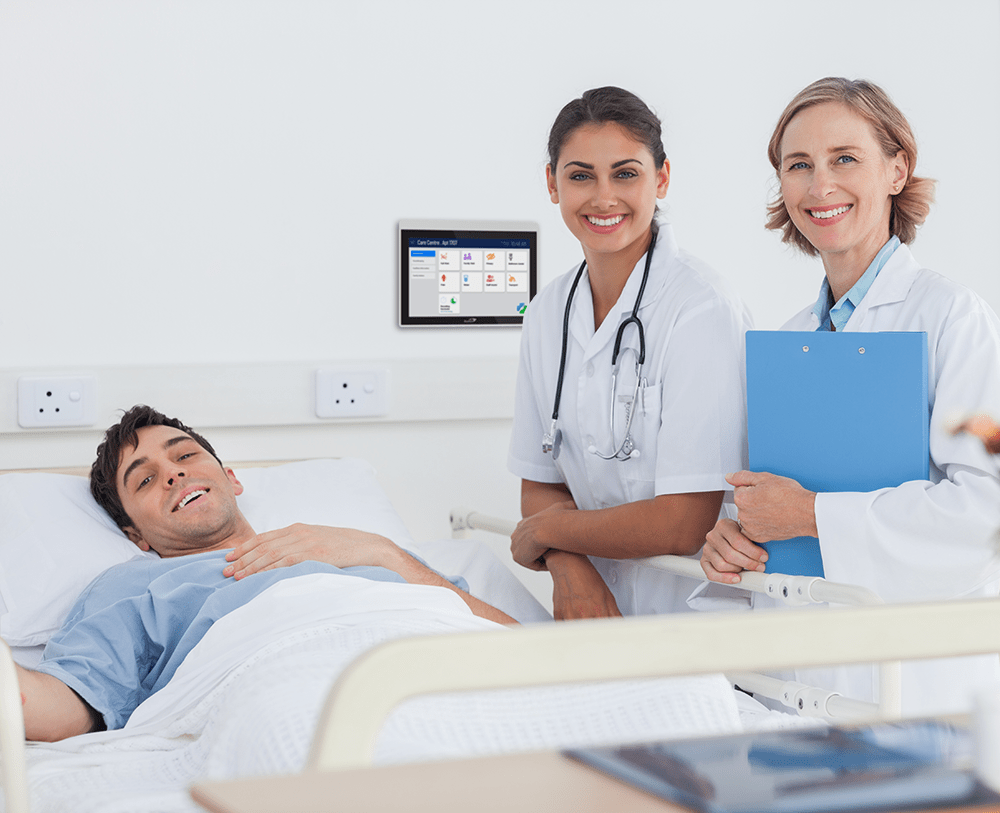 Improve the patient experience
Workflow is ideal for capturing metrics related to HCAHPS and other measures of patient experience.
Route the call to the correct caregiver to reduce the time patients wait after they press the button.
Create reminders to assess pain regularly.
Light the over door-light to indicate when a doctor is in the room, so the nurse knows to be present to answer any questions the patient may have.
Alert EVS directly to clean the room
Alert Dietary to remove food trays
Get More Information
Contact Austco to see how our products help to optimize your workflow.
Schedule a Demo
Try our workflow solutions in person. Set up a demo at your facility.